Issue #58 March 2019

The IPBA Secretariat
Roppongi Hills North Tower 7F
6-2-31 Roppongi, Minato-ku, Tokyo 106-0032
Tel +81 3-5786-6796 FAX +82-3-5786-6778
E-mail: ipba@ipba.org

IPBA March Events Report • IPBA Membership News
29th IPBA Annual Meeting and Conference in Singapore 2019 News
IPBA Events 2019 • IPBA-Supported Events 2019

Dear [[first_name]] [[last_name]] Esq.,
| | |
| --- | --- |
| In Japan, March is the end of the fiscal year for some companies as well as the end of the school year for all students. Graduation ceremonies are held at kindergartens, elementary, middle, and high school, as well as universities. These ceremonies signify the end of an era for the students, as well as a new beginning as they prepare for the next step in their lives from April 1st. You can feel the happiness and excitement in the air! | |
In a way, some of our Officers and other Council members will soon be "graduating" from their roles in the IPBA when their terms end after the Annual Conference in Sinagpore. Some are continuing on to higher "education" by escalting from a deputy position to a main officer position, or by taking on new roles on the IPBA Council. Many dedicated leaders from past years are still very active in the IPBA, and we anticipate the same kind of enthusiasm from our exiting and transitioning leaders this year, too.
IPBA Events Report
The IPBA was very busy this month, with two big events:
March 9: IPBA 2nd Mekong Regional Forum
As the first IPBA event to be held in Myanmar, this was truly a historic event, which brought in over 50 delegates from around the world.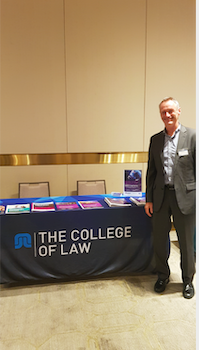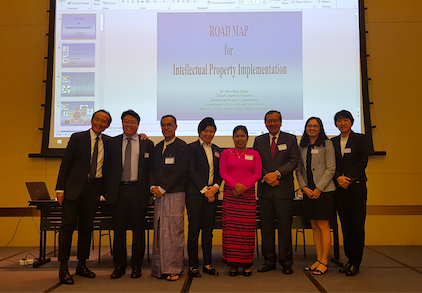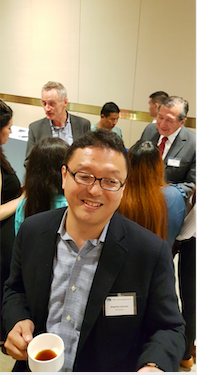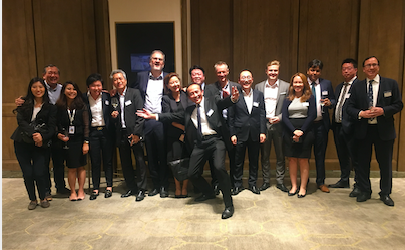 March 20: IPBA and Pinsent Masons "Negotiated Justice" Breakfast Seminar
Speakers from France, the UK, Switzerland, and Singapore discussed current legal events in each jurisdiction, as well as compliance issues such as self-reporting, criminal liability of officers, and international prosecution cooperation. More than 20 delegates attended. Organized by Jeffrey Holt, JCM for France, pictured with the panelists, seated on the right in the photo on the left. A full report will be posted to the IPBA web site soon.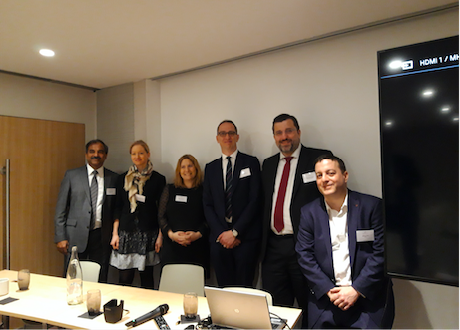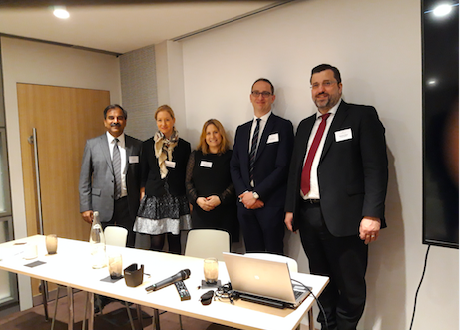 In addition, the very popular annual joint event IFLR/IPBA Asia M&A Forum was held March 6-7 in Hong Kong.
IPBA Membership News
March 31st is the absolute, final cut-off date to pay your membership dues for 2019! Contact the IPBA Secretariat if you have questions about your membership.
Your IPBA membership must be valid for 2019 in order to enjoy the discounted IPBA member rates for the Annual Conference in Singapore, so be sure your membership dues are up to date!
Only 25 days until the Conference!
Singapore's Prime Minister Lee Hsien Loong has graciously agreed to attend the Opening Ceremony on April 25th! It is a true honor to have him at our conference.
There will be a big announcement about the IPBA made at the Opening Ceremony. The only way to find out what exciting news we have is to come to the conference!
15 CPD SILE points are available for the conference sessions! Check the conference web site for details.
IPBA Events 2019
June 19
Latin American Arbitration Day
Madrid, Spain
July 4
New Asian Investment Issues - The Lawyer's View
Australia - New Zealand Regional Event
Sydney, Australia
September 5
North America, Asia and the Law in International Business: Rules of the Road in 2019 and Beyond
Chicago, Illinois, USA
October 14
The Evolution of Protectionism and M&A: Circulation of Investment, People, and Services
Milan, Italy
November 13-14
5th IPBA Arbitration Day
Osaka, Japan
November 21
IPBA 5th East Asia Regional Forum
Beijing, China
Put IPBA in Your Business Calendar! Download the flyer for handy use:

IPBA-Supported Events 2019
More details can be found on the IPBA web site!

Incorporated in Singapore. Company registration number: 201526931R
Please click HERE if you would like to stop receiving this newsletter.