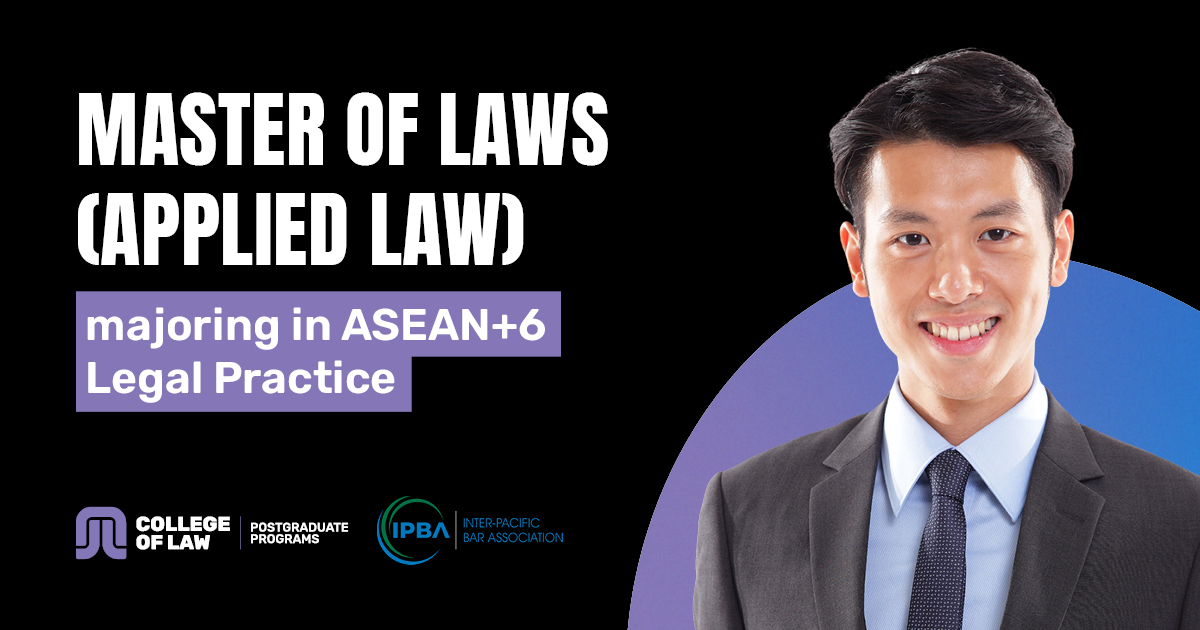 Introducing the College of Law/IPBA Master of Laws (Applied Law) majoring in ASEAN+6 Legal Practice
The Master of Laws (Applied Law) Majoring in ASEAN+6 Legal Practice is designed to meet the needs of legal professionals engaged in cross-border practice between the 10-nation ASEAN group and the six nations that comprise the ASEAN+6 regional Free Trade Area (ASEAN, plus Australia-New Zealand, China, India, Japan and Korea), which is coming together in the new Regional Comprehensive Economic Partnership (RCEP).
This ASEAN+6 LLM is offered within The College of Law's suite of Master of Laws (Applied Law) programmes. It has been designed to equip lawyers with the practical knowledge and skills they will need to conduct successful cross-border practice in the ASEAN region and to take their career to the next level.
The programme has been developed by The College of Law in collaboration with the Inter-Pacific Bar Association.
Subjects include: Negotiating and drafting cross-border contracts, Cross-border Mergers and acquisitions, Banking and Finance Practice, Intellectual Property Practice, International Arbitration Practice, trade and investment in Asia, and Capital Markets Practice.
We offer four intakes per year: February, May, August, and November.
To find out more about this unique LLM, please visit: ASEAN+6 Legal Practice
The College also offers LLMs in Australian Legal Practice and Common Law Practice (New Zealand).
About The College of Law
The College of Law is a school of professional practice for lawyers. The College has been educating lawyers in Australia since 1974, New Zealand and offers programmes in Asia. We are the largest provider of practice-focused postgraduate legal education and one of the most trusted names in legal training in Australasia. Our mission is to enhance the careers of legal professionals through the delivery of innovative, real-world legal education and training for practising lawyers.