| | |
| --- | --- |
| From The IPBA Secretariat | Issue #64 October 2019 |

IPBA Regional Events • IPBA Scholarship Program 2020 Applications
IPBA Membership News • IPBA Leadership Activities
29th IPBA Annual Meeting and Conference in Shanghai
IPBA Events 2019 • IPBA-Supported Events 2019

Dear [[first_name]] [[last_name]] Esq.,
Yay: It's October and the IPBA Mid-Year Council Meeting and Regional Conference in Milan is coming up this month!
Boo: There are only 10 more days to get a lot of things done before the Council meetings, so we won't be getting much sleep.
Yay: The Regional Conference in Milan on Monday, October 14 is open to the public, and there is still time to register!
Boo: We only have one weekend to spend with some of our favorite IPBA Officers and other Council members, and most of that time will be spent in meetings, meetings, and more meetings.
Yay: You can meet many of the IPBA Council members from around the world, and the Secretariat staff, if you come to Milan!
Boo: The Secretariat will be out of the Office October 10-17 to attend the Mid-Year Council Meeting and Regional Conference in Milan. It's best to contact us by e-mail during this time.
Yay: This is the first time for the IPBA to hold an event in the historic, exciting, fashionable city of Milan.
BOO! Halloween is October 31st!
IPBA Regional Events

October 14: Milan, Italy
"The evolution of protectionism: circulation of investment, goods and services, people and judgments"
This Regional Conference is held in conjunction with the IPBA Mid-Year Council Meetings is a great opportunity to meet some of the IPBA Officers and other Council members, too. Registration is available until October 2nd, so register today!

November 13-14: Osaka, Japan
IPBA 5th Arbitration Day
This conference was held in Kuala Lumpur for three years, and Bangkok last year. This year, it will be held in Osaka, Japan for the first time. Held jointly with the Japan International Dispute Resolutoin Center and supported by Westlaw, this is an important event for anyone concerned with cross-border arbitration.

Register now: https://westlawjapan.com/english/premium/
IPBA Scholarship Program 2020

Qualified lawyers will be selected to attend the Annual Meeting and Conference in Shanghai, April 20-23, 2020. The Scholarship includes roundtrip airfare; hotel accommodation; conference fee waiver; and a 3-year term IPBA membership. This is a great opportunity to share with your junior partners or business associates around the world, who might not otherwise be able to attend our Annual Conference on their own. There are two categories of Scholarship:

Lawyers from Developing Countries: Bangladesh, Cambodia, Laos, Mongolia, Myanmar, or the Pacific Islands.

Young Lawyers: aged 35 and under, from any jurisdiction.

The deadline for applications is October 31, 2019.
IPBA Membership News
The IPBA has gained over 400 new members so far this year! Partly in thanks to the great reviews of the Annual Meeting and Conference in Singapore, where we gained 49 new members, and partly due to the great efforts of our members in Taiwan, where 79 new members joined us. Thank you to everyone for helping promote the IPBA to colleagues and business associates!
Membership renewal season will begin in November. Be sure to keep your membership updated through 2020 in order to take advantage of cheaper registration rates for the Annual Meeting and Conference in Shanghai.
IPBA Leadership Activities
| | |
| --- | --- |
| IPBA Membership Committee Chair Tatsu Nakayama represented the IPBA at the AIJA Annual Congress in Rome. While there, he met presented the benefits of joining IPBA to members who must leave AIJA. The IPBA first signed an MOU with AIJA in 2010, with the goal of strengthening our ties and provide an easier avenue for mutual cooperation. We have since signed extensions in 2013, 2015, 2017, and 2019. | |
Several IPBA leaders attended events organized around the IBA Annual Conference in Seoul, including a cocktail event hosted by AIJA, and a get-together for IPBA members and non-members at Yoon & Yang. Quite a few of our Officers and past Officers and other Council members attended these events, including Past Presidents Dhinesh Bhaskaran (2016-2017) and Perry Pe (2018-2019), President-Elect Jack Li, Deputy Program Coordinator Jan Peeters, JCM for Korea Jihn U Rhi, and past Membership Committee Chair Yong-Jae Chang.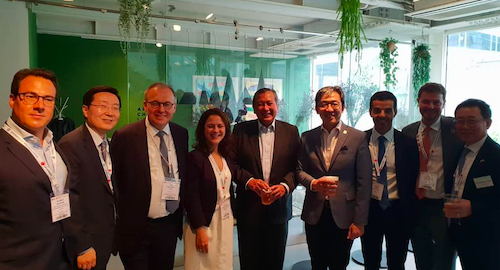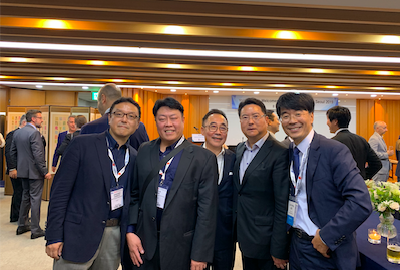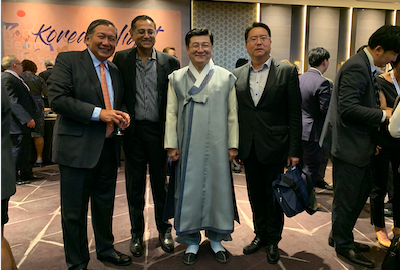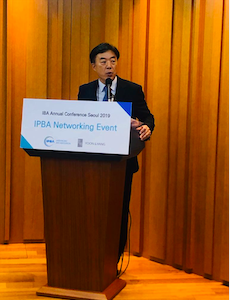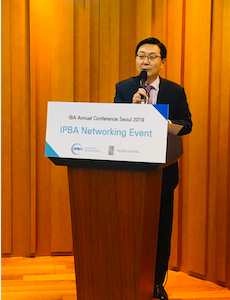 Only 201 days until the Conference!
The current "Early Bird" rate is available until November 30th.
Group registration rates are offered to multiple registrations from the same firm or organization! Check the conference web site for details.
Hotel reservations are now open for the Shanghai International Convention Center Oriental Riverside Hotel! Make your reservation through the conference web site.
Join the more than 400 delegates registered already!
IPBA Events 2019
Put IPBA in Your Business Calendar! Download the flyer for handy use: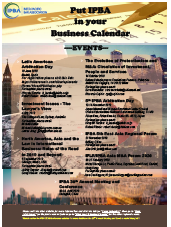 IPBA-Supported Events 2019
More details can be found on the IPBA web site!

Incorporated in Singapore. Company registration number: 201526931R
Please click HERE if you would like to stop receiving this newsletter.