On October 22, 2014, the IPBA and the Korean Bar Association signed a Memorandum of Understanding establishing strong ties between the two associations. This is the first time that the IPBA has signed an MoU with a local bar association.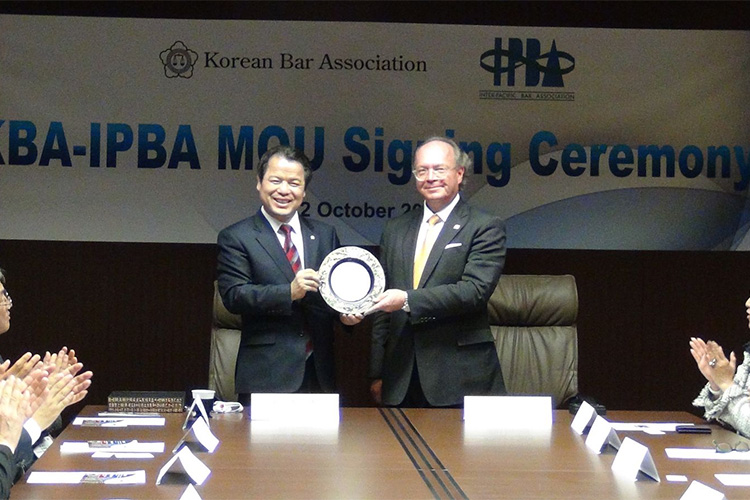 President of the Korean Bar Association, Mr. Chul-Whan We, and IPBA President Mr. William Scott display the signed agreement.
---
Mr. We presented the IPBA with a commemorative plate to mark the occasion.
---
IPBA representatives in attendance: Miyuki Ishiguro, Deputy Secretary-General; Sumeet Kachwaha, Deputy Program Coordinator; Masafumi Kodama, Deputy Committee Coordinator; Yong-Jae Chang, Membership Committee Chair; Chang-Rok Woo, JCM for Korea; Ryosuke Ito, JCM for Japan; Hiroe Toyoshima, At-Large Council Member for Osaka; Shigehiko Ishimoto, APEC Committee Vice-Chair; Doil Son, Environmental Law Committee Vice-Chair; and Gerhard Wegen, JCM for Germany.
---
KBA representatives in attendance: In-Bo Song, Senior Vice President; Jung-Ho Lee, Senior Vice President; Young-Hoon Kim, Secretary General; Jung-Hyun Park, Treasurer; Kyung-Han Min, Vice President (Human Rights); Seoung-Soo Choi, Vice President (Education and Training); Young-Ik Choi, Vice President (International Affairs); Byung-Ick Kim, Supervisor; Young-Hee Rho, Spokesperson.