IPBA Leadership Activities
IPBA President-Elect Jack Li and Immediate Past President Perry Pe attended the 30th POLA Conference 2019, held in Kunming, Yunnan, China. The conference focused on "New Era: Legal Services' Interconnection" and the main topics of the conference included the "Belt and Road" development, "Legal Practice and Artificial Intelligence", "Diversification Mechanism of International Trade" and "Construction of Legal Aid and Public Legal Service System".
The Vice-minister of the Ministry of Justice of China, Mr Xiong Xuanguo provided a keynote speech. Perry conducted a speech regarding Alternative Dispute Resolution in International Trade and Jack's speech focused on "Belt and Road" and the legal service. They all mentioned the host of Shanghai 2020 annual meeting and conference and reported the current preparatory work to the delegates.

Moreover, ACLA also sent a delegation that included President Wang Junfeng, Vice President Zhang Xuebing, Zhu Zhengfu, Secretary General Han Xiutao and Deputy Secretary-General Xia Lu, Kang Yu, among others. Presidents and representatives of Bar associations from Australia, India, Japan, South Korea, Malaysia, Mongolia, New Zealand, Singapore, the Philippines, Sri Lanka, Vietnam, Hong Kong and Macau as well as the President of IBA and Lawasia.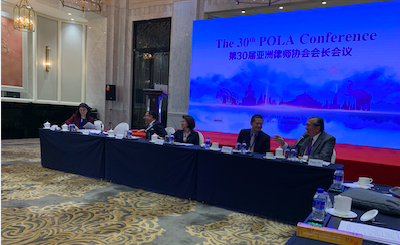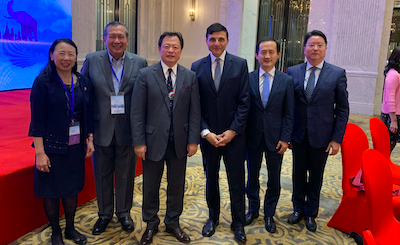 In August, a cool wind starts to blow in North America, carrying a strong sense of autumn. This wind guided Jack to the American Bar Association Annual Meeting in San Francisco August 8-13, where he represented the IPBA on behalf of IPBA President Francis Xavier, who could not attend.
During this occasion, Jack participated in the Distinguished Guest Roundtable, where delegates shared their ideas regarding legal construction, AI, and law firm management. The delegates of the Roundtable consisted of the Presidents or representatives of global bar associations such as IPBA, UIA, and AIJA; and different countries' or regions' bar associations including the US, UK, Canada, France, Germany, Australia, Japan, South Korea, the Czech Republic, Denmark, Pakistan, and Mexico.
Meanwhile, Jack continued to promote the IPBA 30th annual Meeting and Conference in Shanghai, to be held April 20-23, 2020. Robert Brown, President of ABA-SIL, confirmed that ABA will send several representatives to attend, while aiming to support and cooperate with IPBA based on the MOU signed between our two associations in Singapore this year.
During the meeting in San Francisco, Jack also communicated with the President of UIA, the former President of AIJA, the Vice President of the Japan Federation of Bar Association, the President and former President of the German Bar Association and the President of the Korea Bar Association, all of whom exchanged their ideas regarding how to strengthen cooperation between their organizations and IPBA. Tthey all show their intention to attend the Shanghai conference.
Sindey R. Thomas, who was nominated by the then US Former President Bill Clinton as the Chief Judge of the United States Court of Appeals for the Ninth Circuit, delivered a keynote speech at the Annual General Meeting. More than 2,000 lawyers, judges, government officials, and law professors attended the annual meeting.