| | |
| --- | --- |
| From The IPBA Secretariat | Issue #62 August 2019 |

IPBA Regional Conference in Milan • IPBA Scholarship Program 2020
IPBA Membership News • IPBA Leadership Activities
29th IPBA Annual Meeting and Conference in Shanghai
IPBA Events 2019 • IPBA-Supported Events 2019

Dear [[first_name]] [[last_name]] Esq.,
Greetings from the IPBA!
It seems like forever since the last issue of the Eye on IPBA, but it's been only 31 days. During this time the IPBA has been busy behind the scenes: planning for the Annual Meeting and Conference in Shanghai is well underway; new local and regional events are in the works; and we are gearing up for our Mid-Year Council Meeting in Milan this October. Check the IPBA web site from time to time to find out the latest information.
| | |
| --- | --- |
| The IPBA Secretariat is closed on Monday, August 12 in celebration of Mountain Day, a day designated to appreciate the natural beauty and cultural significance of mountains. While there are thousands of peaks in Japan to appreciate, Mt. Fuji is undoubtedly the most iconic. Standing at 3776 meters, this volcano can be seen from as far away as 300 kilometers. The symmetrical caldera at the top hides another underneath, which hides a third (New Fuji on top of Old Fuji on top of Komitake). The last eruption in 1707-1708 produced a large crater on the southeast side, dubbed Mt. Hoei. Thousands of climbers scale this peak each year in July and August, on one of four official pathways. If you hurry, you can make it for Mountain Day! | |
IPBA Regional Conference in Milan
"The evolution of protectionism: circulation of investment, goods and services, people and judgments"
October 14, 2019

Don't miss the IPBA's first Regional Conference to be held in Milan!

Organized by IPBA members from Cajola & Associati and Chiomenti with the support of the Milan Bar Association, this full-day conference features speakers from Asia, Latin America, and Europe discussing the impact of protectionism.

Click on the flyer at left for more details.

Register online HERE.
IPBA Scholarship Program 2020

Applications are now being accepted for the IPBA Scholarship Program 2020!

Qualified lawyers will be selected to attend the Annual Meeting and Conference in Shanghai, April 20-23, 2020. The Scholarship includes roundtrip airfare; hotel accommodation; conference fee waiver; and a 3-year term IPBA membership.

With a generous donation from the family of M.S. Lin, Past President of the IPBA, the IPBA Scholarship Program started in 1999 when 23 lawyers from Cambodia, Canada, Hong Kong, India, Malaysia, Myanmar, Singapore, and Vietnam were brought to the annual conference in Bangkok. Since then, the IPBA has brought almost 200 lawyers from around the world to attend the conference. It is currently funded by another generous donation from the M.S. Lin family, the host committee of the Vancouver 2014 Annual Conference, and donations from members in Japan to the Japan Fund.

There are two categories for which to apply:

Lawyers from Developing Countries: Bangladesh, Cambodia, Laos, Mongolia, Myanmar, or the Pacific Islands.

Young Lawyers: aged 35 and under, from any jurisdiction.

Please share the information at right with anyone who might be interested.

The deadline for applications is October 31, 2019.
IPBA Membership News
The printed IPBA Membership Directory is finished, so you should receive it in the mail soon!
Now is the best time to introduce your collegues and business associates to the IPBA! New members who join by August 31st can enjoy membership through December 31 of that year. BUT: anyone who joins from September 1st can enjoy membership through December 31 of the following year. Prospective members can contact the IPBA Secretariat with any membership inquiries.
IPBA Leadership Activities
We can't think of anything more romantic than dinner in Paris. IPBA Members from around the world gathered in France for the annual Dinner in Paris event, a tradition carried on by newly elected JCM for France, Frédéric Dal Vecchio. Attendees included JCMs for France Anne Durez and Jeffrey Holt, Chair of the Employment & Immigration Committee Frédérique David, and 15 other colleagues from France, Germany, and Canada.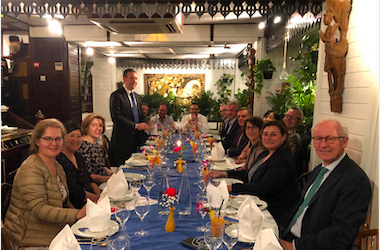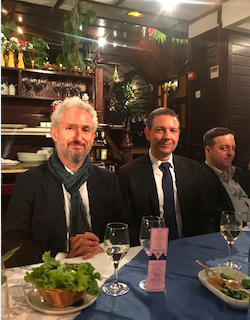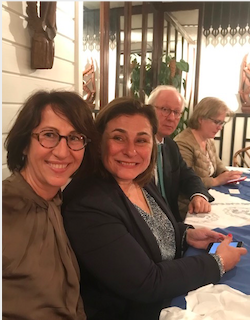 262 days until the Conference!
IPBA Events 2019
Put IPBA in Your Business Calendar! Download the flyer for handy use: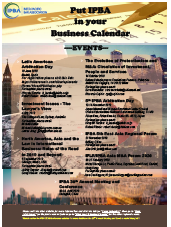 IPBA-Supported Events 2019
More details can be found on the IPBA web site!

Incorporated in Singapore. Company registration number: 201526931R
Please click HERE if you would like to stop receiving this newsletter.