| | |
| --- | --- |
| From The IPBA Secretariat | Issue #61 July 2019 |

IPBA Sydney Event • New IPBA Council Members
IPBA Membership News
29th IPBA Annual Meeting and Conference in Shanghai!
IPBA Events 2019 • IPBA-Supported Events 2019

Dear [[first_name]] [[last_name]] Esq.,
July. Julio. Juli. Июль. Juillet. 칠월. 七月*. 七月*. No matter how you say it, 2019 is halfway over. But we have the rest of 2019 to look forward to!

The Japanese observe "Tanabata", or the "Star Festival" around the 7th of July. This festival commemorates the one day each year that the princess weaver Orihime (the star Vega) can meet her love Hikoboshi (the star Altair) across the Milky Way. Orihime was skilled at weaving but lamented to her father that she could not find love. Her father introduced her to Hikoboshi and the two fell in love and wed. However, Orihime would no longer weave for her father, so he separated them across the Milky Way. Orihime became despondent and cried so much that her father had pity on her and he allowed them to meet once a year. If it rains, however, the two lovers can not see each other until the following year.

Not so for our IPBA members and other delegates to our Annual Conference! Although we meet just once a year, we can see each other rain or shine, across the Pacific instead of across the Milky Way. We shall next meet in Shanghai in April 2020. See details below!

*That's not a mistake! In both Chinese and Japanese the depiction is the same: 7th month.
IPBA Event: New Asian Investment Issues - The Lawyer's View
July 4th, Sydney

Join the IPBA and the College of Law for this half-day afternoon seminar. Speakers from Australia and New Zealand will speak about a wide range of topics from anti-money laundering to FATCA to bridging cultural gaps when doing business with Asia.

Cocktails and nibbles follow the conference.

Register HERE.
Other Regional Conferences will be held this fall in Chicago, Illinois, USA; Osaka, Japan; Milan, Italy; and Beijing, China.
IPBA New Council Members
Last month we introduced you to the new Officers whose terms began at the end of the Annual Conference in Singapore. This month we introduce you to the new Membership Leaders.
Frédéric dal Vecchio
JCM, France

Michael Shanahan
JCM, New Zealand

Alexander Gunning
JCM, UK

Manjula Chawla
At-Large Council
Member, India
IPBA Membership Leaders comprise Jurisdictional Council Members (JCM); At-Large Council Members; and Regional Coordinators. JCMs can be elected in jurisdictions with 25 or more members, while At-Large Council Members support JCMs in large jurisdictions or support IPBA members in wider regions. Regional Coordinators are recommended by the IPBA President to help boost membership in regions of interest to the IPBA.
IPBA Membership News
The printed IPBA Membership Directory is being prepared this month! If you have any recent changes to your contact information, contact the Secretariat by Monday, July 8th in order to be sure that other members can reach you.
While your mind is on your contact information, check your Member Profile in the online Membership Directory, too. You can easily change the information yourself by logging in to the Member Only section. Don't forget to

upload your lovely or handsome photo if you have not already!
IPBA Leadership Activities
IPBA President-Elect Jack Li has been busy! He attended the IPBA Latin America Arbitration Day Regional Conference in Madrid, Spain, on June 19th, together with the Club Español de Arbitraje and the Cámera de Comercio de España. The scope of IPBA's arbitration expertise is reaching around the world, with more and more events attended by many lawyers interested in learning more about doing business with Asia.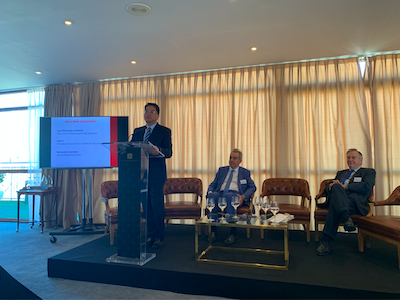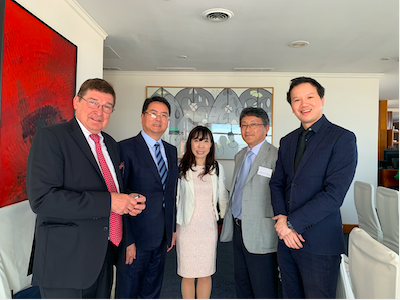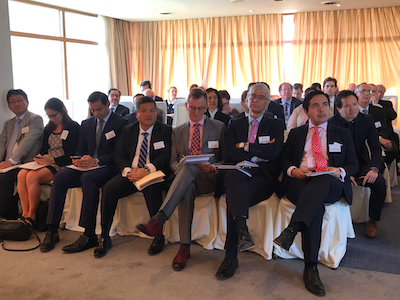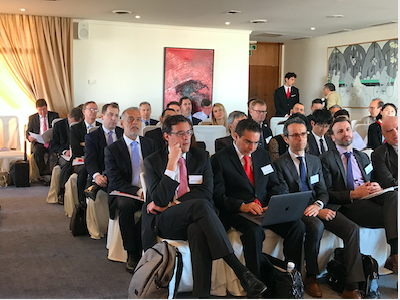 IPBA Officers are a well-traveled group, with Deputy Webmaster Varya Simpson visiting Jack and his able-bodied right-hand man, Keanu Ou, in Shanghai. Varya was lucky to get a sneak peak at the preparations for the annual conference there, but the rest of us will have to wait until April!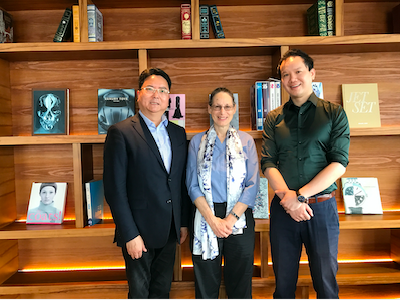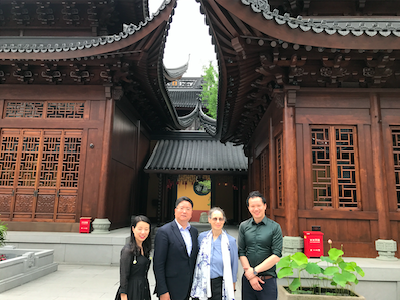 IPBA Events 2019
Put IPBA in Your Business Calendar! Download the flyer for handy use: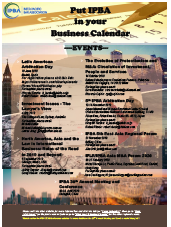 IPBA-Supported Events 2019
More details can be found on the IPBA web site!

Incorporated in Singapore. Company registration number: 201526931R
Please click HERE if you would like to stop receiving this newsletter.