| | |
| --- | --- |
| From The IPBA Secretariat | Issue #60 June 2019 |

IPBA Madrid Event • New IPBA Officers
IPBA Membership News
29th IPBA Annual Meeting and Conference in Shanghai Registration Now Open!
IPBA Events 2019 • IPBA-Supported Events 2019

Dear [[first_name]] [[last_name]] Esq.,
This issue marks 5 years since the Eye on IPBA was born! That's 60 issues lovingly prepared and sent to you each month by the IPBA Secretariat.

Reaching the age of 60 is a special time in Asia! Known as "hwangap" in Korea, "kanreki" in Japan, and "jiazi" in China, it signifies one complete cycle of the zodiac calendar, and when a person reaches this milestone he/she is reborn and begins a new cycle. We therefore take this opportunity now to renew the Eye on IPBA! In April we introduced the new IPBA logo, which is featured above (upper left). To match better with this new image, we've also changed the logo of the Eye on IPBA (upper right). We will also change the issue to be sent out at the beginning of each month instead of at the end. New features may be added from time to time, too.

Of course, this writer of the Eye on IPBA must also be reborn, becoming younger to keep up with the new IPBA. Yay!
IPBA Event: Latin American Arbitration Day
June 19

Madrid, Spain

There is a change of venue for this event! Click on the flyer at right for details.

This even is held jointly with the Club Español del Arbitraje, and features a seminar on arbitration with a Latin American and Asian component. Learn about the ground-breaking Spanish Arbitration Act and what makes Spain a very attractive centre for international arbitration.
IPBA New Officers
At the Annual General Meeting held in Singapore on April 27, 2019, Officers and other Council Members whose terms had ended bid their farewells, and newly approved leaders (some esclating from Deputy positions) came into place. Here are the new Officers:
Francis Xavier
President

Jack Li
President-Elect

Miyuki Ishiguro
Vice-President
Michael Burian
Secretary-General

Yong-Jae Chang
Deputy Secretary-General
Shin Jae Kim
Program Coordinator

Jan Peeters
Deputy Program Coordinator
More details about these new leaders and all Officers can be found on the IPBA web site. We will introduce other new Council members in the next Eye on IPBA.
IPBA Membership News
It's time for us to start preparing the printed Membership Directory! Make sure that you're contact information is updated by checking your member record online now.
In this age of selfies and social media where you can't do anything without someone taking a photo, why are there so few photos of our members in the online Membership Directory? Just sayin'. While you are checking your contact information, be sure to upload a photo if you have not already!
323 days until the Conference
Less than a year to go to our 30th Annual Meeting and Conference!
This is the first time for the IPBA to hold a conference in Shanghai, and the first time an international legal association will hold an annual conference in Shanghai, so it is truly a historic event.
The Conference will be held at the Shanghai International Convention Center. Hotel information can be found on the web site.
Registration is now open! Go to the Conference web site to register.
IPBA Events 2019
June 19
Latin American Arbitration Day
Madrid, Spain
July 4
New Asian Investment Issues - The Lawyer's View
Australia - New Zealand Regional Event
Sydney, Australia
September 5
North America, Asia and the Law in International Business: Rules of the Road in 2019 and Beyond
Chicago, Illinois, USA
October 14
The Evolution of Protectionism and M&A: Circulation of Investment, People, and Services
Milan, Italy
November 13-14
5th IPBA Arbitration Day
Osaka, Japan
November 21
IPBA 5th East Asia Regional Forum
Beijing, China
Put IPBA in Your Business Calendar! Download the flyer for handy use: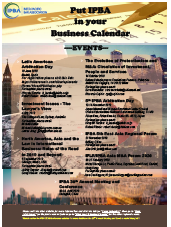 IPBA-Supported Events 2019
More details can be found on the IPBA web site!

Incorporated in Singapore. Company registration number: 201526931R
Please click HERE if you would like to stop receiving this newsletter.