Issue #59 April 2019

The IPBA Secretariat
Roppongi Hills North Tower 7F
6-2-31 Roppongi, Minato-ku, Tokyo 106-0032
Tel +81 3-5786-6796 FAX +82-3-5786-6778
E-mail: ipba@ipba.org

IPBA New Logo!
29th IPBA Annual Meeting and Conference in Singapore 2019 Highlights
IPBA Events 2019 • IPBA-Supported Events 2019

Dear [[first_name]] [[last_name]] Esq.,
Fantastic. Memorable. Fun.

These are some of the words our delegates used to describe the Annual Meeting and Conference in Singapore which took place April 25-27. It was a record-breaking conference, with close to 1,250 delegates! From the Welcome Reception to the AGM, this was a conference to remember. Read about some of the highlights below.

Session overviews will be published in the upcoming June IPBA Journal, and we'll post more photos on the IPBA web site in the coming weeks!
Please note that the Secretariat is out of the office until May 7th for Golden Week.
Thank you for your understanding!
IPBA's New Logo!
| | |
| --- | --- |
| | The New IPBA logo was unveiled during the Opening Ceremony at the Singapore Annual Meeting & Conference on April 25, 2019. |
Since the IPBA was established 1991, we have had one logo that served us well, becoming the easily recognizable symbol of our well-respected association in the Asia-Pacific Region. As the members who helped build the association retire or move on to other responsibilities, we are gaining young members from a varied spread of jurisdictions, indicting a greater interest in this region. As the association's demographics change, so do our internal workings: the IPBA Council has expanded to comprise 77 Officers, Membership Leaders, and Committee Chairs/Co-Chairs; the Secretariat staff is now at 2.5 (two full-time and one part-time); and we are keen to utilize changing technology to create more efficient ways of doing business.
It was felt by many among this new IPBA leadership that the logo should be refreshed to reflect these changes. A special committee to choose a new IPBA logo was formed at our Mid-Year Meeting in Chiang Mai last November, comprising a range of demographics including young and experienced, male and female, East and West. They deliberated intensively over several months to choose a logo from among dozens of submissions that represents the IPBA as it is today: embracing all regions of the world, fluid, vibrant, young, modern, upward reaching. We hope you like it!
| | |
| --- | --- |
| | IPBA President Perry Pe, along with 10 Past Presidents, introduced the new logo at the IPBA 2019 Singapore Conference Opening Ceremony on April 25, 2019. |
The new logo will be updated on all IPBA digital printed matter over the next several weeks.
IPBA 2019 Singapore Highlights
The IPBA Council comprises 77: Officers, Membership Leaders, and Committee Chairs/Co-Chairs. They meet two times a year to discuss and make decisions regarding the operations of the IPBA.

This was the last conference for Secretary-General Caroline Berube, Program Coordinator Jose Cochingyan III, and President Perry Pe, as well as three Membership Leaders and four Committee Chairs.

Many illustrious guests presided over various ceremonies and other events at the conference. Singapore Prime Minister Lee Hsien Loong gave the keynote speech at the Opening Ceremony nine years after his father, Lee Kuan Yew, presided over our Singapore Conference in 2010. Chief Justice Sundaresh Menon spoke at the Gala Dinner. Dato' Seri Anwar Ibrahim spoke at the third Plenary Session.
The IPBA has great relationships with many other international, regional, and local legal associations. In Singapore we met with leaders from AIJA, IBA, and Lawasia, as well as signed new MOUs with the All China Bar Association, Shanghai Bar Association, ABA-SIL (American Bar Association Section of International Law), and the DAV-IWR (Deutscher Anwaltverein - Arbeitsgemeinschaft Internationales Wirtschaftsrecht) [International Section of the German Bar Association].
The IPBA Annual General Meeting (AGM) was held on April 27, 2019, at which officers gave reports of their activities during the past year to 238 IPBA members in attendance. At the end of the AGM, Council members whose terms ended were given special plaques to commemmorate their time of service. New Council member nominees were then introduced and approved by the IPBA members in attendance.

IPBA President-Elect Francis Xavier gives a plaque of appreciation to IPBA President Perry Pe on his last day of tenure.

Francis Xavier took over at President of the IPBA as of the end of the AGM on April 27th.

We are not done with Perry yet, though! He now becomes the Immediate Past President and is still a Council member, and will be part of the IPBA Nominating Committee for two years.

Other new Officers are:

Vice-President: Miyuki Ishiguro, Tokyo
Deputy Secretary-General: Yong-Jae Chang, Seoul
Deputy Program Coordinator: Jan Peeters, Brussels

In the coming days, the IPBA web site will be updated to reflect all new Officer and other Council members.
30th IPBA Annual Meeting and Conference
in Shanghai
April 20-23, 2020

Global Rules Reform: the Opportunities and Challenges for Legal Industry
It's the IPBA's first conference in China since Beijing 2007! We will welcome our delegates to the Shanghai International Convention Center, in the Lujiazui Financial Center. The web site will be launched in the coming weeks!
IPBA Events 2019
June 19
Latin American Arbitration Day
Madrid, Spain
July 4
New Asian Investment Issues - The Lawyer's View
Australia - New Zealand Regional Event
Sydney, Australia
September 5
North America, Asia and the Law in International Business: Rules of the Road in 2019 and Beyond
Chicago, Illinois, USA
October 14
The Evolution of Protectionism and M&A: Circulation of Investment, People, and Services
Milan, Italy
November 13-14
5th IPBA Arbitration Day
Osaka, Japan
November 21
IPBA 5th East Asia Regional Forum
Beijing, China
Put IPBA in Your Business Calendar! Download the flyer for handy use: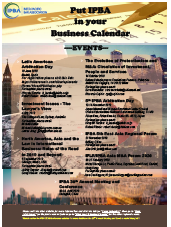 IPBA-Supported Events 2019
More details can be found on the IPBA web site!

Incorporated in Singapore. Company registration number: 201526931R
Please click HERE if you would like to stop receiving this newsletter.