Issue #53 October 2018

The IPBA Secretariat
Roppongi Hills North Tower 7F
6-2-31 Roppongi, Minato-ku, Tokyo 106-0032
Tel +81 3-5786-6796 FAX +82-3-5786-6778
E-mail: ipba@ipba.org

Topics: IPBA Membership News • IPBA Committee News • IPBA Leadership Activities • IPBA Regional Event Report
29th IPBA Annual Meeting and Conference in Singapore 2019
IPBA Events 2018 • IPBA-Supported Events 2018

Dear [[first_name]] [[last_name]] Esq.,
Last month when it was time to send you the Eye on IPBA, this writer was in Brussels representing the IPBA at the Pre-Congress Seminar and Annual Congress.
Today, this edition comes to you from an airport hotel on the first leg of travel to Chiang Mai and Bangkok for the IPBA Mid-Year Council Meeting and Regional Conference. Due to bad internet connection and bad wine from the hotel kiosk, the introductory message will be short and sweet.
The End.
Just kidding!
There is so much going on at the IPBA that it's hard to keep up! From two successful Regional Conferences last month in Los Angeles and Santiago, we go right into our two-day Regional Conference on Arbitration in Bangkok, followed by the 4th East Asia Forum in Seoul. Later in November, it's on to Brussels. These events would not be possible without the dedication and enthusiasm of our members in all of those locations, as well as those supporting the events from other locales. Many travel far and wide to be speakers or help support the conferences in other ways; they also help by advertising the events and the IPBA at home and during their travels.
We raise a glass of bad wine from a hotel kiosk to you!
The Scholarship Committee has extended the deadline for applications until Saturday, November 15th! We ask your cooperation in advertising this valuable program to your collegues and business associates, your local bar associations, and anyone else you feel wouldbe a good candidate! Details can be found on the IPBA web site.
IPBA Membership News
Don't forget to submit your article or Members' Notes for the IPBA Journal December issue! The deadline is Saturday, November 10th.
Membership renewal is just around the corner! Your membership must be in good standing for 2019 in order to take advantage of the IPBA Annual Meeting and Conference at the IPBA Member registration rate.
IPBA Committee News
The sessions organized by the IPBA Committees are now posted on the IPBA 2019 Annual Conference in Singapore web site! Dozens of concurrent sessions are scheduled, so it won't be easy to choose the sessions you want to join.
Nominations are now closed for committee leadership. The IPBA Council will be ratifying the list of nominations at the Mid-Year Council Meeting in Chiang Mai on November 4th. Once ratified, the new leadership will begin their positions from immediately after the AGM in Singapore, on April 27, 2019.
IPBA Leadership Activities
IPBA President Perry Pe has had a busy month! He first attended the Opening of the Legal Year in England and Wales, then went straight to Rome for the IBA Annual Conference.
While at the IBA in Rome, the law firm of Chiomenti kindly hosted a cocktail event to welcome IPBA and delegates from Russia and CIS Countries. Perry is pictured below with Sara Marchetta of Chiomenti to his left, and Audrey Chen, past IPBA JCM for China on his right.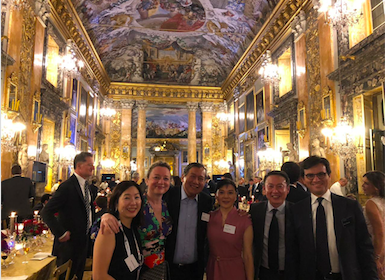 Meanwhile, IPBA Program Coordinator Jose Cochingyan supported the Regional Conference in Santiago, Chile; he's third from the right in the photo below.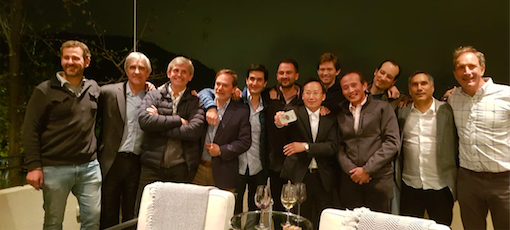 Perry will be coming to Tokyo later this month, joining 100 lawyers from France for a conference and lunch. We'll report on that project next month!
IPBA Events 2018-2019
August 25
IPBA 2nd Mekong Regional Forum: POSTPONED UNTIL EARLY 2019
Yangon, Myanmar
September 28
LatAm Legal Views on Investment, Trade, Compliance & International Dispute Resolution
Santiago, Chile
November 2-4
IPBA Mid-Year Council Meeting
(IPBA Council Members only)
Chiang Mai, Thailand
November 5-6
IPBA Regional Conference and Arbitration Day hosted by Dej-Udom & Associates and IPBA-THAC Arbitration Day
Now two separate events! Check the link for details.
Bangkok, Thailand
November 8

DATE CHANGE

IPBA 4th East Asia Regional Forum
Seoul, Korea
November 22
IPBA European Regional Conference: International Commercial Courts in Various European Jurisdictions & in Singapore
Brussels, Belgium
January 24, 2019
IPBA Mid-East Regional Forum
Dubai
March 6-7, 2019
Asia M&A Forum 2019
Hong Kong

IPBA-Supported Events 2018
More details can be found on the IPBA web site!
29th IPBA Annual Meeting and Conference
in Singapore
April 25-27, 2019

Technology, Business and Law - Global Perspectives
174 days until the Conference!
The detailed schedule of committee sessions is now posted to the web site! You can start planning which sessions you want to attend. But with over 50 from which to choose, it won't be easy!
There's only one more month to take advantage of the Early Bird registration rate, available until November 30th. The Regular Rate takes effect from December 1st, so now is your chance to get the cheapest available price!

Please click HERE if you would like to stop receiving this newsletter.

Incorporated in Singapore. Company registration number: 201526931R