Issue #54 November 2018

The IPBA Secretariat
Roppongi Hills North Tower 7F
6-2-31 Roppongi, Minato-ku, Tokyo 106-0032
Tel +81 3-5786-6796 FAX +82-3-5786-6778
E-mail: ipba@ipba.org

Topics: IPBA Membership News • IPBA Committee News • IPBA Leadership Activities • IPBA Regional Events Report
29th IPBA Annual Meeting and Conference in Singapore 2019
IPBA Events 2018/2019 • IPBA-Supported Events 2018

Dear [[first_name]] [[last_name]] Esq.,
Last month at this time, the Eye on IPBA was being finalized while this writer was enjoying some bad wine from a hotel convenience store. This time around, she is fueled by bad hot coffee in a can from a vending machine. Actually, the bad hot coffee in a can is a guilty pleasure: the can warms up the hands, the coffee is just strong enough to give a quick jolt but not too strong to prevent a good night's sleep, and it's just a little too sweet. Cheers!
The Mid-Year Council Meeting in Chiang Mai, held November 2nd through 4th, brought together our IPBA Council members who attended various meetings to report on activities and discuss ideas. The following two-day Regional Conference on arbitration in Bangkok on November 5th and 6th drew almost 100 delegates each day. Many thanks go to the law firm of Dej-Udom & Associates Ltd. for hosting the council meetings and social events, as well as the first day of the Regional Conference. In addition, the great organization of the second day's conference by the Thailand Arbitration Center can not be understated.

Pictured left to right: Perry Pe introduces Past President Dej-Udom Krairit, generous host of the weekend's events; the IPBA Officers in a rare moment of calm; one of the panels on the second day of the Regional Conference.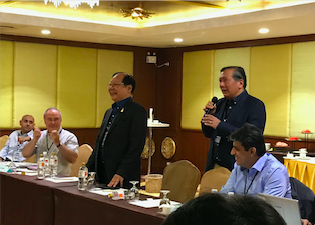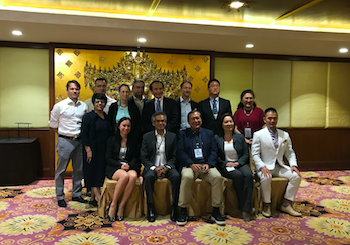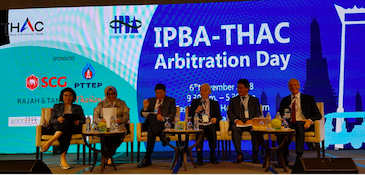 Save the date: January 24, 2019
Stemming from discussion in Bangkok with representatives of the Law Society of England and Wales, IPBA Officer Varya Simpson has organized a Women's Roundtable to take place in New Delhi on Thursday, December 13th. The Law Society has been conducting roundtables around the world to support dialogue, a clear commitment, and tangible actions to achieve full gender equality. The current President of the Law Society, Christina Blacklaws, has generously offered to facilitate this roundtable.
If you would like to join this event, contact the IPBA Secretariat, or check out the details on the IPBA web site.
Please contact the Secretariat if you'd like to help organize a Women's Roundtable in your jurisdiction.
IPBA Membership News
Membership renewal season is just around the corner! In December we will start to remind you to pay your dues for 2019 if your membership is on the verge of expiring this year. We thank those who have already taken the initiative to contact us regarding your membership renewal!
| | |
| --- | --- |
| IPBA President Perry Pe attempted to recruit some new members in Antarctica. The IPBA welcomes members from any jurisdiction and any species! It looks like those penguins are already dressed up for the Gala Dinner. | |
IPBA Committee News
The Aviation Law Committee has a new name: Aviation and Aerospace Committee. This reflects the increasing importance of the space industry, and allows the committee to offer a wider range of topics at their sessions during the annual conference.
IPBA Leadership Activities
November was a busy month for IPBA Officers and other Council members, who attended several events held in Asia, Europe, and North America.
| | | |
| --- | --- | --- |
| | | |
| Perry Pe, Jack Li, Tatsu Nakayama, Eriko Hayashi, and Freddie Ruppert were among the attendees to a seminar and lunch to welcome 100 lawyers from Paris on November 21st. | A Regional Conference on the topic of European Courts was held at the offices of Stibbe in Brussels on November 22nd, organized by Jan Peeters. | Ken Stuart hosted a reception at his firm of Becker, Glynn, Muffly, Chassin & Hosinski LLP in New York on November 12th, attended by Francis Xavier and Jeffrey Snyder. |
IPBA Webmaster Michael Cartier

just sent us the photo at right from the Opening of the Legal Year in Paris. Brought to you in real time!
29th IPBA Annual Meeting and Conference
in Singapore
April 25-27, 2019

Technology, Business and Law - Global Perspectives
144 days until the Conference!
The Guest of Honor for the Gala Dinner has been confirmed! The youngest Chief Justice of Singapore ever appointed, Sudaresh Menon, will be in attendance.
The Early Bird registration rate deadline has been extended until December 31, 2018! Why not treat yourself to a present by signing up for Singapore?
IPBA Events 2018-2019

IPBA-Supported Events 2018
More details can be found on the IPBA web site!

Incorporated in Singapore. Company registration number: 201526931R
Please click HERE if you would like to stop receiving this newsletter.