Issue #43 December 2017

The IPBA Secretariat
Roppongi Hills North Tower 7F
6-2-31 Roppongi, Minato-ku, Tokyo 106-0032
Tel +81 3-5786-6796 FAX +82-3-5786-6778
E-mail: ipba@ipba.org

Topics: IPBA Membership News • IPBA Committee News • IPBA Leadership Activities
28th IPBA Annual Meeting and Conference in Manila 2018
IPBA Events 2018 • IPBA-Supported Events 2018

Dear [[first_name]] [[last_name]] Esq.,

The Year of the Rooster, 2017, was an eventful one for the IPBA. Our members are a great brood of lawyers, actively taking the initiative to hold events around the world. We spread our wings as far as Vietnam with our first ever event there, a regional conference to coincide with APEC in Danang. We can crow about our Annual Meeting and Conference held last April in Auckland: more than 800 delegates and accompanying persons enjoyed Kiwi hospitality, great food, fabulous wine, and of course, the Plenaries and committee sessions. Other members got up at the crack of dawn to plan events that were held in Düsseldorf, Geneva, Kuala Lumpur, Seoul, and London.
We can already start howling about 2018, the Year of the Dog. There is no paws for our active members, who are already working on putting together programs that have become a regular part of the IPBA calendar, or new programs in various jurisdictions. The calendar is getting packed! The IPBA Officers and Council members are a hearty breed, working on projects such as strengthening relationships with other organizations, forming new committees, and updating IPBA administrative documentation and streamlining processes for a more efficient organization. Keep your ears perked for more details coming up in the next few months.
In the meantime: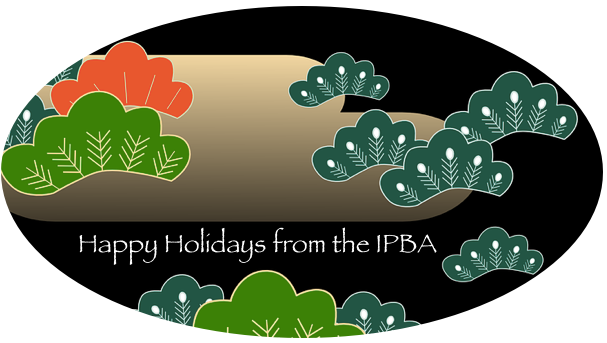 The IPBA wishes you all a
Joyous Holiday season!
We look forward to serving you again in 2018.
The IPBA Secretariat will be closed for the holidays from Thursday, December 28th through Wednesday, January 3rd. We will be back on Thursday, January 4th.
IPBA Membership News
Thank you to those members who have already paid dues for 2018! The Secretariat will continue to send e-mail reminders into 2018. Please contact the Secretariat if you have any questions about your membership.
Remember: your IPBA membership dues for 2018 must be paid in order to take advantage of the cheaper registration rate for members at the Annual Conference in Manila! You can find your Membership Number in your profile next to your photo in the Member Only section of the IPBA web site.
The IPBA will hold its Annual General Meeting (AGM) on Friday, March 16, 2018, 16:00-17:30 at the Shangri-La at the Fort, Manila, Philippines. An official notice was sent to all members on Friday, December 15th, listing the names of the nominees for Council positions starting in 2018 that were approved by the Council in London. You can find the notice on the IPBA web site by clicking HERE.
IPBA Committee News
This month the IPBA committees are taking the season of festivities to heart and are working on the giving of knowledge they have planned for Manila! Stay tuned for more committee updates in the New Year, and remember that you can always share legal updates from your jurisdiction here through your committee. Just contact your committee leadership to learn more.
IPBA's 23 established committees have prepared 50 sessions at the Annual Meeting and Conference in Manila! You can find the details prepared so far on the conference web site. Also check the conference schedule for meetings of each Committee, held during the breaks between sessions on March 15th and 16th. This is a great way to get to know the leaders, interact with other members of the committees of your interest, and get more involved!
IPBA Leadership Activities
Opening Ceremony of the Paris Bar on December 1, 2017

On behalf of President Denis McNamara, Anne Durez, Chair of the IPBA Membership Committee, attended the event which is considered as a major one for the Paris Bar and an opportunity to address crucial issues regarding the future of the legal profession. The ceremony was chaired by Frédéric SICARD, chair of the Paris Bar, in the presence of many international business legal organizations. Anne HIDALGO, mayor of Paris and Pierre MOSCOVICI, European Commissioner for Economic and Financial Affairs, Taxation and Customs both acknowledged that lawyers are major actors in the society because they bring an important contribution to the shaping of the law. The chief of the Paris Bar also insisted on the necessity for citizens and companies to benefit from a legal certainty in spite of these moving times.

Here is a sampling of photos from Anne. You can find more on the IPBA web site.
We still have not perfected cloning, so IPBA President Denis McNamara will attend the opening of the legal year in Hong Kong on January 8th while IPBA Vice-President Francis Xavier will represent the IPBA at the opening of the legal year in Singapore on the same date.
28th IPBA Annual Meeting and Conference in
Manila, Philippines
March 14-16, 2018

Fostering Seamless Cooperation in ASEAN and Beyond
Only 81 days until the Conference!
Committee session details are now up on the conference web site! The Program Coordinator, Jose Cochingyan III, has been busy gathering all the details from the IPBA Committee Chairs and Co-Chairs, who in turn have been busy formulating topics and organizing speakers to ensure that the conference is a great success. It will be difficult to decide which sessions to attend!
There will be two Plenary Sessions held on March 14th: the first session has Finance Secretary Carlos Dominguez speak about how business is opening up in the Philippines, while businessman Manny Pangilinan discusses how the Philippines is poised to become a leader in the ASEAN region; the second session will be a discussion of how regulations affect how in-house counsel help drive business decisions.
There is only one more month to catch the Early Bird registration fee! The deadline of January 31, 2018 is coming up soon.
The IPBA Scholarship Committee has chosen nine Scholars from as many jurisdictions to attend the conference! We are in the process of working out the details of their participation, and will announce more information about them soon.
IPBA Events 2018
March 14-16
IPBA 28th Annual Meeting and Conference
Manila, Philippines
November 2-4
IPBA Mid-Year Council Meeting
(IPBA Council Members only)
Chiang Mai, Thailand
November 5
IPBA Regional Conference
(Open to the public; topic TBA)
Bangkok, Thailand
IPBA-Supported Events 2018
| | | |
| --- | --- | --- |
| February 28-March 1 | IFLR/IPBA Asia M&A Forum | Hong Kong |
| March 7 | ALB Japan In-House Legal Summit | Tokyo, Japan |
| May 22 | ALB Japan Project Finance Conference | Tokyo, Japan |
| June 13 | ALF Japan Law Awards | Tokyo, Japan |
| August 22 | ALB Japan IP Forum | Tokyo, Japan |
| October 25 | ALB Japan Corporate Compliance Forum | Tokyo, Japan |
More details can be found on the IPBA web site!
Please click HERE if you would like to stop receiving this newsletter.

Incorporated in Singapore. Company registration number: 201526931R